Tours to suit all budgets
Whether you are in Coober Pedy for a night or a few days, Riba's has the right tour option for your stay. Our tours are fun for all ages and will keep everyone captivated. Just check out our ratings on Google, Facebook or Tripadvisor and see what our customers have to say.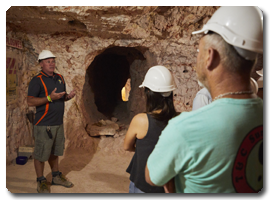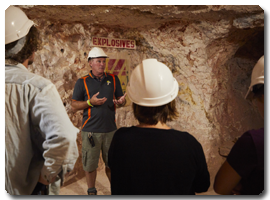 Join our nightly opal mine tour
The on-site opal mine tour is the highlight of your stay at Riba's. Conducted most evenings (minimum of 5 people required) for guests and visitors. We will show and explain how opal mining works and you will learn how it has changed from our pioneering days. Learn how the first miners made their fortunes and what kinds of dangers and challenges they overcame. See the modern ways of mining and get to know how to find your own precious stones. A great option for those short on time and Coober Pedy's only evening mine tour. Tour operates every evening from 7pm in winter and 7:30pm in summer. This tour is a must!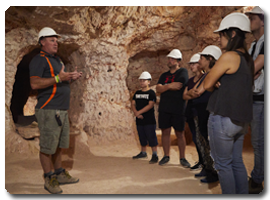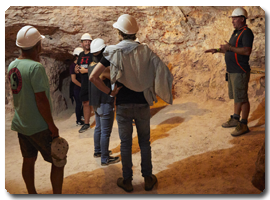 Try our full tag-along town tour
Have an entire morning up your sleeve? Why not join our full town tour? Starting at 9am it runs for approx 3 hours. This tour is the number one tag-along tour in Coober Pedy and operated by an award winning guide. You'll see a "dugout" (underground home), an opal mine, drive through the field, watch opal being cut and polished and then go "noodling" (fosicking) for opal yourself. The tour runs for approximately 3 hours and is unmatched for value. Check out our web site at http://www.followmedownunder.com.au for more information.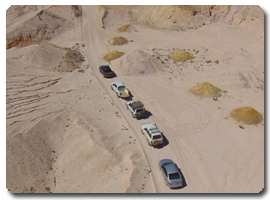 Pricing and offers
Riba's have a price to suit everyone's budget!
On site Opal Mine tour - $26 per adult, $15 per child (age 5-15) and kids under 5 free!
Tag-along town tour - $40 per adult, $20 per child (age 5-15) and kids under 5 free!

ALL OF OUR TOURS WILL GET YOU YOUR FIRST NIGHT CAMPING, AT RIBA'S, FREE!! DISCOUNTS ALSO AVAILABLE ON POWERED SITES AND BUDGET ROOMS. CONTACT US FOR DETAILS.